Client Spotlight – Sara A.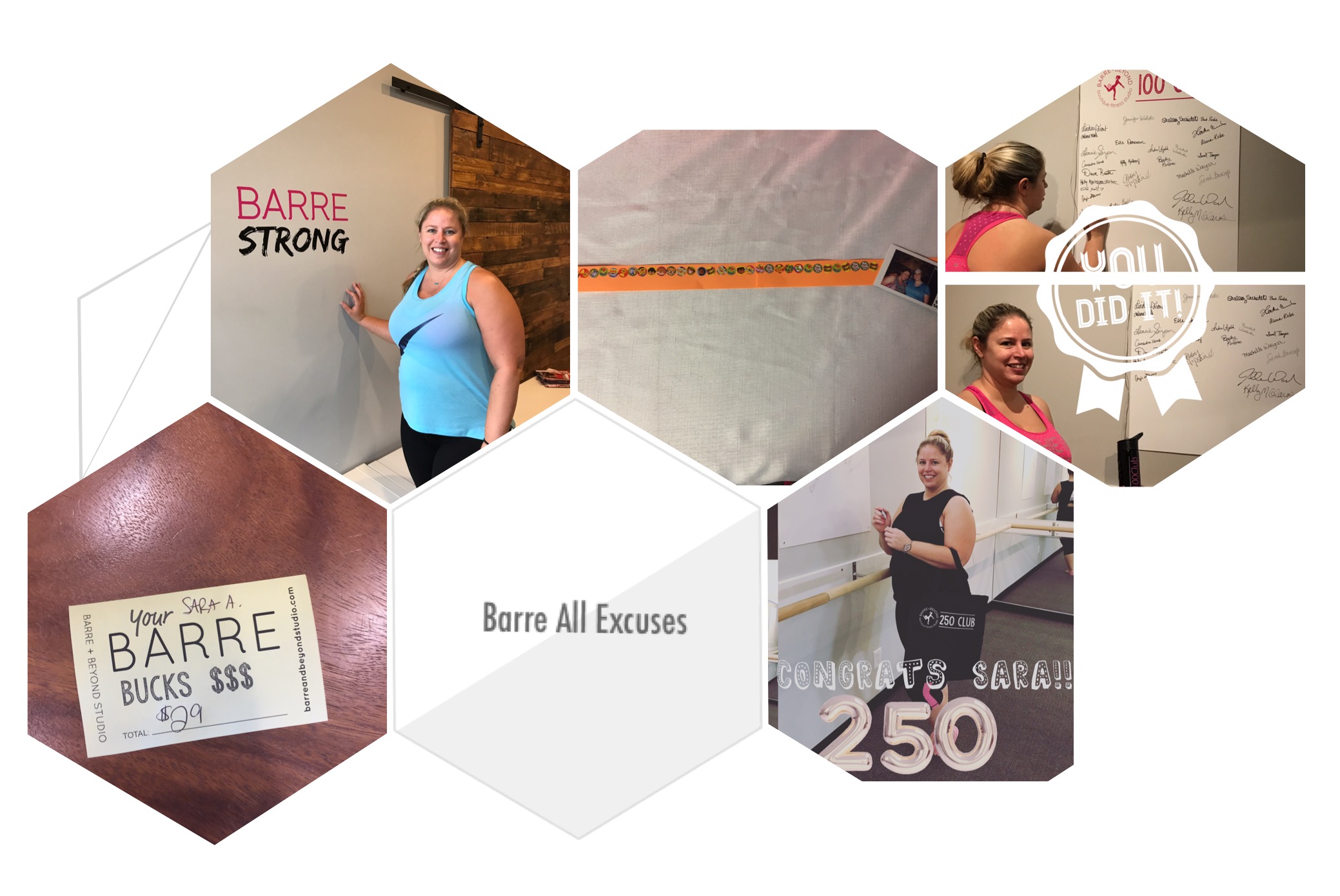 Dedicated + Positive + Goal-Oriented + Beautiful = This Barre Beauty Sara.
I absolutely love Sara.  She is the epitome of what we stand for as a boutique fitness studio. She challenges herself every day to take not just one class but to or even three.  She is positive and the type of person who looks at the glass half full rather than half empty.   She is goal oriented, setting goals like reaching the 100 club, 250 club, and 500 club, but personal goals too to get stronger every day and make a change for herself.  I love that she is not concerned with what everybody else is doing but with her own self and her own goals and accomplishments. She consistently comes to class, even with another huge dedication to softball even after one or 2 hours of barre. You will see her with the most stickers in urn at the barre – she is hard to beat! To stay on top of her goals, she schedules her classes a month in advance -YES one MONTH – which I know helps her maintain her schedule and rarely does she cancel. I can remember the one time Sara cancelled, and I panicked! I had to check on Sara and sure enough she was sick.  Just as she was touched that I checked on her, I have to say, she is the same way.  She quickly makes friends at the barre and she is the one welcoming the new faces now. She is a staple at our barre studio and has made Barre + Beyond not only her home but a home for others with her heart of gold. She is gorgeous inside and out and I cannot be more thankful to have her part of our barre family.
Read more about Sara here:
When did you first start coming to Barre + Beyond ( Mind Over Matter Method Barre Classes)?
I started in August 2016 with the progressive. I came to the open house brought my first pair of grip socks and signed up for the progressive and the 3 month unlimited. I thought I am doing this!!!
What got you "hooked" on Mind Over Matter Method Classes?
I think the instructors are top notch. They know what they are doing and are so helpful. Second it is the sense of community with the other "Barre Beauties" I love how everyone is so inclusive and friendly. I have met many new women I now can call friends and I think it is motivational to see them in class each week.  
Have you seen changes in your physique?
Of course I have seen changes in inches and stamina. It took me a few months to do all my reps on push ups and I was so proud to hit that milestone. I am definitely stronger and healthier which is so important.
How often do you take class?
I take classes as often as I can which is usually 4-6 days a week and I love doubling up!! Right now I am loving the trx circuit class.
Have you ever taken a barre class before Barre + Beyond?
Nope. I had never even tried group classes.
Do you have any goals set for yourself in class?
Short term goals are to do all the thigh or seat exercises without a break. But I have my eye on the 500 club!
What would you tell someone that is hesitant to try a class? I do tell anyone that it is an amazing workout and environment and to try it. There are modifications for every level and I am normally doing some of them! I don't have other group workouts to compare but I will never do the traditional gym and treadmill or elliptical workouts again.
Thank you Sara for your support of Barre + Beyond and making the choice to be healthy, be strong and be a barre beauty!
Sharing Barre Love,
Orlee